The Holidays at #WheninFinance
The holidays are a magical time of the year. For normal people, they can be marked by the first snow, putting up the Christmas tree, or the day after Thanksgiving. For #WIFs the holiday season is marked by the official invitation to the holiday party.
The Holiday Party is one of the best times of the year: perhaps second only to Bonus Day. When we received our invitations this year, we couldn't help but to think over The Ghosts of Holiday Party Past. Like the time time the secretary threw up behind the booth and then made out with a VP, making the interns dress up as elves, and marveling at meeting some of the #WIF wives for the first time.
Not to mention, the holiday party is usually when most inter-#WIF relationships start.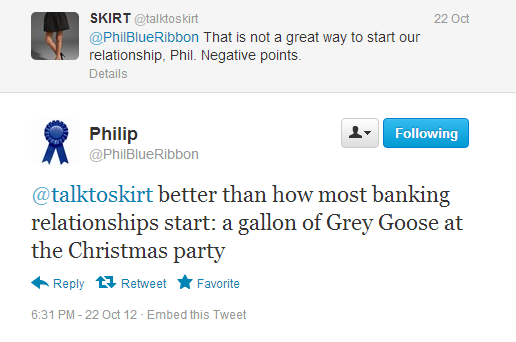 We'll be sharing some of our favorite and worst holiday party stories over the next couple months. Send us some of your memories in story, gif, or picture format in email, twitter, or instagram. Make sure to tag them with #wheninfinance.
Some of our favorite ones might receive some holiday presents in the new year.
andthetiguerrawred likes this
wheninfinance posted this
Tweet