October 29, 2012
When it's 1am and I'm given revisions on a pitchbook due the next morning:

When I'm the one responsible for delivery of said pitchbooks:
Credit: M/IB/NYC
Tweet
October 29, 2012
When I am told I may get to leave before 9pm on a Friday:


When I actually do get to leave before 9pm on a Friday:
Credit: M/IB/NYC
Tweet
October 24, 2012
When I look to exit banking and get a really compelling banking offer:
Credit: M/IB/Chicago
Tweet
October 18, 2012
When my non #WIF friends try to get me to go out after two straight all nighters.
Credit: M/NYC/IBD
Tweet
August 3, 2012
IB Analyst Consumes 500 Starburst in Eating Challenge
Forget Michael Phelps, we've got a new American champion on our hands. And it's this guy: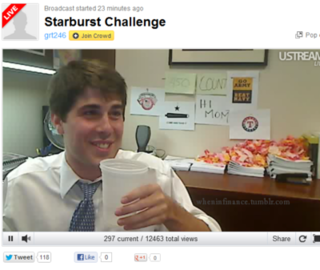 Yesterday, we got wind from our friends over at Business Insider and Dealbreaker of an analyst in Houston who, in the great tradition of analyst degradation eating challenges, was attempting to eat 500 Starbursts in 12 hours for the prize of $500. The cherry-flavored Starburst on top was that he was streaming this entire event on UStream; it was appropriately listed in the Sports category.
Over the course of the challenge, the stream had over 13,000 views, and supporters—including WhenInFinance—joined the chatroom to cheer on Garrison.
We watched Garrison go through the sugar highs like Buster Bluth drinking juice, and the sugar crashes where he was sad, stressed, and licking a pretzel. In the end, he completed the challenge in a flurry of confetti, wrapped himself in an American flag, and drank a beer.
He ended the chat saying "vom time…heads up for the squeamish", stuck his fingers down his throat, and threw up on camera while holding up the Hook Em horns.
We're proud of you, Garrison.
#WIF Followers: What are some eating challenges you've attempted or forced upon your lowly interns and fellow colleagues? Send us your stories and pictures at WheninFinance@Gmail.com.
Garrison on a Sugar High.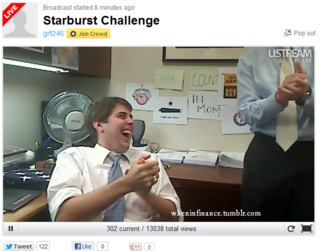 Garrison crashing.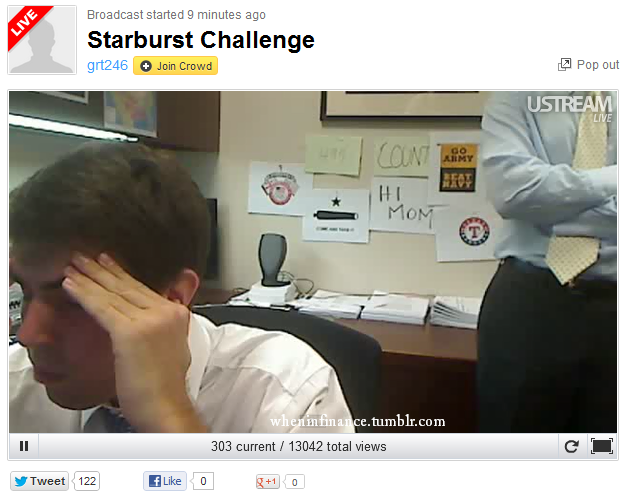 The final Starburst: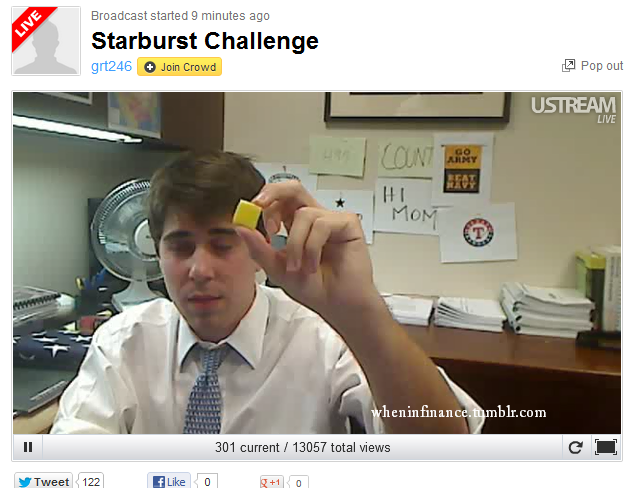 CHALLENGE COMPLETE:
True patriot: victory beer wrapped in the American flag: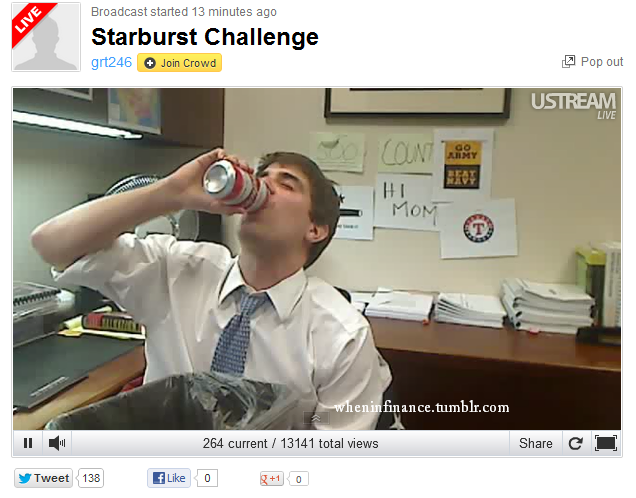 Garrison vomits. Hook 'em.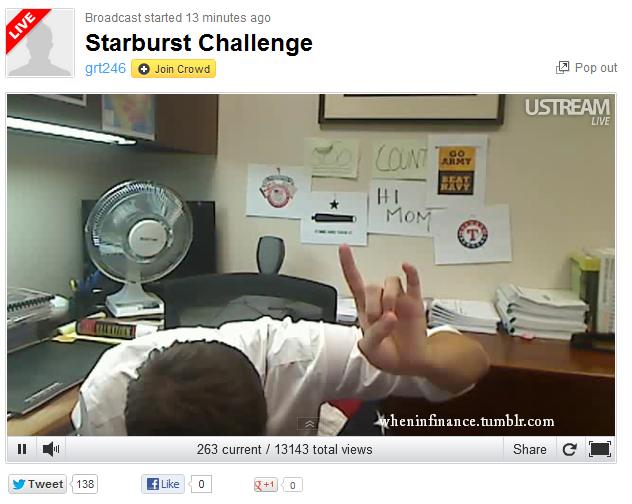 Tweet
April 30, 2012
If I have to hear another analyst tell me "what the market doesn't understand is"
Tweet
April 30, 2012
When college seniors tell me they want to do investment banking
How I act during info sessions
What I'm really thinking
Tweet
2
of
2
Previous page