January 22, 2013
December 10, 2012
A #WIF Christmas Jingle: Bonus Claus Is Coming To Town
We got this #wheninfinance Christmas jingle in our inbox over the weekend with a note that read: "Now as you read this, just imagine the most senior MDs singing loud and clear whilst glaring towards the analysts around the room. Don't know how that makes me feel."
"BONUS CLAUS" IS COMING TO TOWN
You better not sleep
You better not try
Just bust your ass
We're telling you why
Bonus Claus is coming to town
—-
He's making a list
He's checking it close
Gonna find out who's hot and who's toast
Bonus Claus is coming to town
—-
He sees you when you're resting
He knows when you're awake
He knows if you're at your desk
So show up, for appearance sake!
—-
Oh' pound on Excel
Make spreadsheets fly
Better go fast
We're telling you why
Or Bonus Grinch is coming to town
Share your holiday party stories (short or long), gif reactions, and photos to us at wheninfinance@gmail.com and tag with #wheninfinance on Instagram. 
Tweet
November 2, 2012
when my senior analyst said she's taking the December CFA level 1 and she just cracked book 1 in October
At first I'm like:
Then she tells me she doesn't have a calculator a month later and I'm like:



And then she tells me she has no idea how she can memorize more than 3 standard deviation numbers, and it's November, and I'm like:
Credit: F/Valuation 
Tweet
August 3, 2012
IB Analyst Consumes 500 Starburst in Eating Challenge
Forget Michael Phelps, we've got a new American champion on our hands. And it's this guy: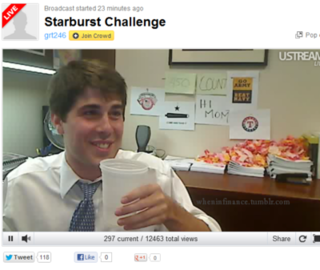 Yesterday, we got wind from our friends over at Business Insider and Dealbreaker of an analyst in Houston who, in the great tradition of analyst degradation eating challenges, was attempting to eat 500 Starbursts in 12 hours for the prize of $500. The cherry-flavored Starburst on top was that he was streaming this entire event on UStream; it was appropriately listed in the Sports category.
Over the course of the challenge, the stream had over 13,000 views, and supporters—including WhenInFinance—joined the chatroom to cheer on Garrison.
We watched Garrison go through the sugar highs like Buster Bluth drinking juice, and the sugar crashes where he was sad, stressed, and licking a pretzel. In the end, he completed the challenge in a flurry of confetti, wrapped himself in an American flag, and drank a beer.
He ended the chat saying "vom time…heads up for the squeamish", stuck his fingers down his throat, and threw up on camera while holding up the Hook Em horns.
We're proud of you, Garrison.
#WIF Followers: What are some eating challenges you've attempted or forced upon your lowly interns and fellow colleagues? Send us your stories and pictures at WheninFinance@Gmail.com.
Garrison on a Sugar High.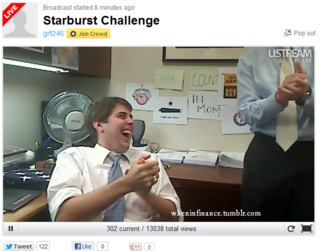 Garrison crashing.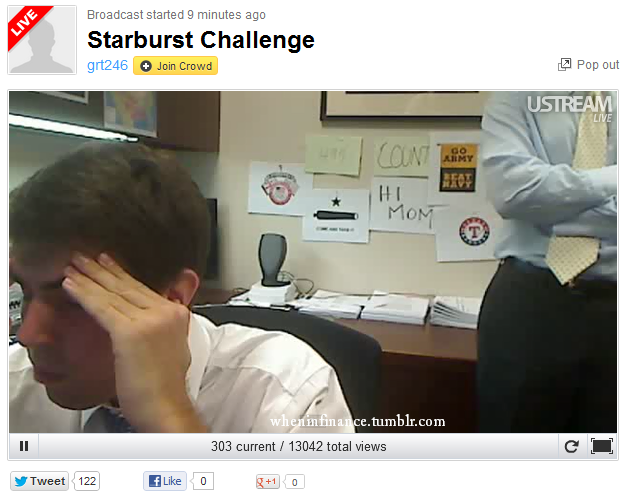 The final Starburst: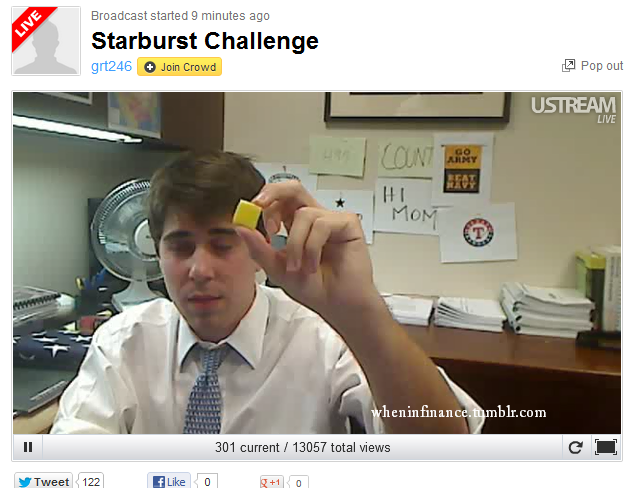 CHALLENGE COMPLETE:
True patriot: victory beer wrapped in the American flag: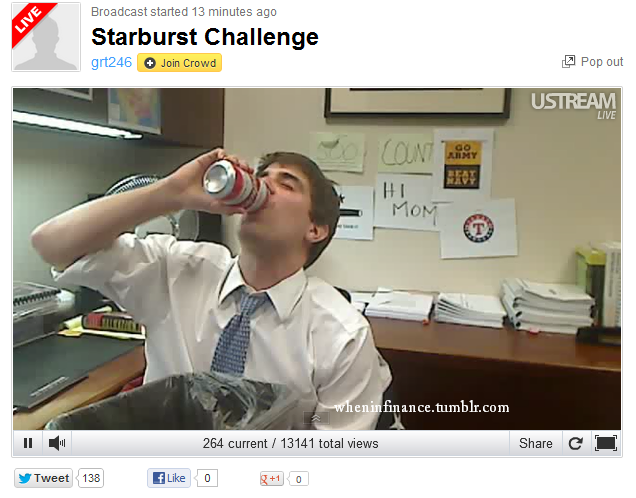 Garrison vomits. Hook 'em.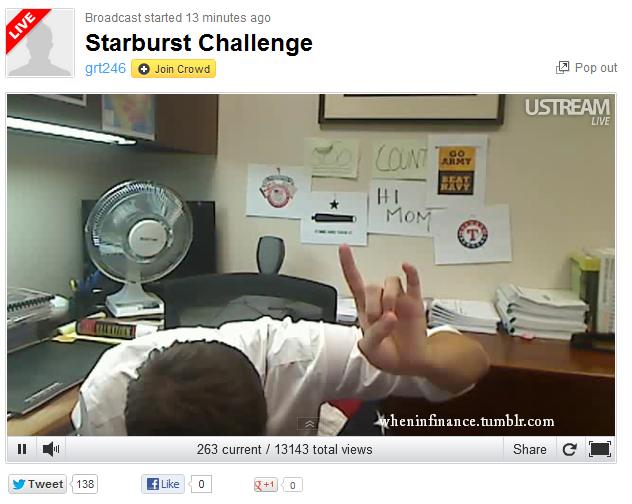 Tweet