December 18, 2012
Every time I am left unattended at my desk: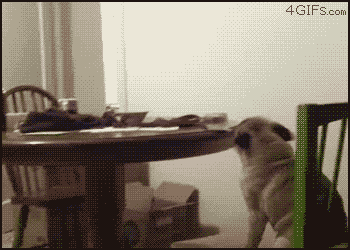 Credit: M/IB/Paris
Tweet
December 10, 2012
A #WIF Christmas Jingle: Bonus Claus Is Coming To Town
We got this #wheninfinance Christmas jingle in our inbox over the weekend with a note that read: "Now as you read this, just imagine the most senior MDs singing loud and clear whilst glaring towards the analysts around the room. Don't know how that makes me feel."
"BONUS CLAUS" IS COMING TO TOWN
You better not sleep
You better not try
Just bust your ass
We're telling you why
Bonus Claus is coming to town
—-
He's making a list
He's checking it close
Gonna find out who's hot and who's toast
Bonus Claus is coming to town
—-
He sees you when you're resting
He knows when you're awake
He knows if you're at your desk
So show up, for appearance sake!
—-
Oh' pound on Excel
Make spreadsheets fly
Better go fast
We're telling you why
Or Bonus Grinch is coming to town
Share your holiday party stories (short or long), gif reactions, and photos to us at wheninfinance@gmail.com and tag with #wheninfinance on Instagram. 
Tweet
November 7, 2012
When the obnoxious banker on the deal blows up my phone/email repeatedly:
Credit: F / LA / Mezz
Tweet
October 22, 2012
When I accept the offer to lateral out of my horrible shop:

Credit: M/NYC/IBD
Tweet
October 10, 2012
Dating a #WIF. Date Night:
Expectation:
Reality:
Credit: Skirt
Tweet
September 12, 2012
Coming home after a month's worth of all nighters and no grocery shopping:
#sadbankerlife
Credit: Skirt
Tweet