December 26, 2012
Coming into work the day after Christmas:
and trying to make it look like I'm doing actual work:
Credit: Skirt
Tweet
December 19, 2012
When I get assigned a CIM the day before Christmas Break (due Jan 2):
When the other associate tells me they can't work on it because they are going to be out of town:
Credit: M / IB / Palo Alto
Tweet
December 10, 2012
A #WIF Christmas Jingle: Bonus Claus Is Coming To Town
We got this #wheninfinance Christmas jingle in our inbox over the weekend with a note that read: "Now as you read this, just imagine the most senior MDs singing loud and clear whilst glaring towards the analysts around the room. Don't know how that makes me feel."
"BONUS CLAUS" IS COMING TO TOWN
You better not sleep
You better not try
Just bust your ass
We're telling you why
Bonus Claus is coming to town
—-
He's making a list
He's checking it close
Gonna find out who's hot and who's toast
Bonus Claus is coming to town
—-
He sees you when you're resting
He knows when you're awake
He knows if you're at your desk
So show up, for appearance sake!
—-
Oh' pound on Excel
Make spreadsheets fly
Better go fast
We're telling you why
Or Bonus Grinch is coming to town
Share your holiday party stories (short or long), gif reactions, and photos to us at wheninfinance@gmail.com and tag with #wheninfinance on Instagram. 
Tweet
December 10, 2012
When the creepy associate tried to drunkenly put the moves on me at the holiday party:
Credit: Skirt 
Tweet
November 28, 2012
When the guys bring ugly dates to the holiday party:
Credit: Skirt
Tweet
November 27, 2012
The Holidays at #WheninFinance
The holidays are a magical time of the year. For normal people, they can be marked by the first snow, putting up the Christmas tree, or the day after Thanksgiving. For #WIFs the holiday season is marked by the official invitation to the holiday party.
The Holiday Party is one of the best times of the year: perhaps second only to Bonus Day. When we received our invitations this year, we couldn't help but to think over The Ghosts of Holiday Party Past. Like the time time the secretary threw up behind the booth and then made out with a VP, making the interns dress up as elves, and marveling at meeting some of the #WIF wives for the first time.
Not to mention, the holiday party is usually when most inter-#WIF relationships start.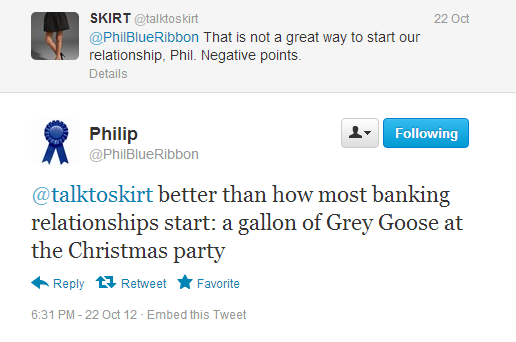 We'll be sharing some of our favorite and worst holiday party stories over the next couple months. Send us some of your memories in story, gif, or picture format in email, twitter, or instagram. Make sure to tag them with #wheninfinance.
Some of our favorite ones might receive some holiday presents in the new year.
Tweet