December 10, 2012
When the creepy associate tried to drunkenly put the moves on me at the holiday party:
Credit: Skirt 
Tweet
December 6, 2012
When I'm on hold for 20 minutes waiting for the pricing call to start:
When I reply all to the entire working group asking if the call is going to start:
When I realize the pricing call already started without me:
Credit: M / LevFin / Ohio
Tweet
December 3, 2012
Holiday Party Tales: The Wives in Finance
Wives in finance are, quite possibly, the most interesting breed of human being in existence. Every time I've met a senior partner's or director's wife, she is an unknown strain of bizarre, worthless, or mean. It's become the standard.
Once upon a time, I'd met my managing partner's wife and, of course, she rolled in on the Wives In Finance Bizarro Train with glitter in her hair and spikey leather pants. She was some sort of faux-rock-and-roll like Avril Lavigne. She had a general disdain for the hoity toity, the schmoozey charity events, and was miserable about basically everything else that came along with being a wealthy fund manager's wife.
And somehow, she thought we were friends. Maybe this is because I was usually the only other female even close to her age at events. Or maybe she could sense my bitchy undertones. I went with it.
She clung to me at our Christmas party. We drank and made fun of people, talked shit, took pictures, etc… At one point in the evening she said  to me "let's get away from everyone and go to the bathroom real quick".
I thought we were just going to powder our noses and get away for a second. So when we both walked into the single-person bathroom, I didn't think anything of it. I started rummaging through my clutch for a lipstick and when I looked over, I saw that she had kicked off her shoes that cost more than my rent, and was squatting barefoot atop the toilet, her underwear pulled to her knees, and she was casually taking a shit in front of me. Just shitting away.
And it wasn't a little shit; it was a full-sized shit. If this shit was a car, I'd say it was a four door sedan. It was a 7-series shit.
My world started spinning backwards as I realized I was watching my boss' wife take a shit. All the while, she was still talking away about something, as if it was no big deal. I wondered how many before me had witnessed this Wife In Finance take shits. There must be hundreds. Or at least five or six.
I wondered how to nicely tell her that "no matter what happens, we will never be real friends; your husband signs my paychecks; you cannot shit in front of me like this ever again"? I realized this had gone too far. And I never made eye contact with her again.
-SKIRT.


Do you have a legendary holiday party story to share with us? Send us your goodies; we'll protect your anonymity. 
Tweet
November 28, 2012
When the guys bring ugly dates to the holiday party:
Credit: Skirt
Tweet
November 27, 2012
The Holidays at #WheninFinance
The holidays are a magical time of the year. For normal people, they can be marked by the first snow, putting up the Christmas tree, or the day after Thanksgiving. For #WIFs the holiday season is marked by the official invitation to the holiday party.
The Holiday Party is one of the best times of the year: perhaps second only to Bonus Day. When we received our invitations this year, we couldn't help but to think over The Ghosts of Holiday Party Past. Like the time time the secretary threw up behind the booth and then made out with a VP, making the interns dress up as elves, and marveling at meeting some of the #WIF wives for the first time.
Not to mention, the holiday party is usually when most inter-#WIF relationships start.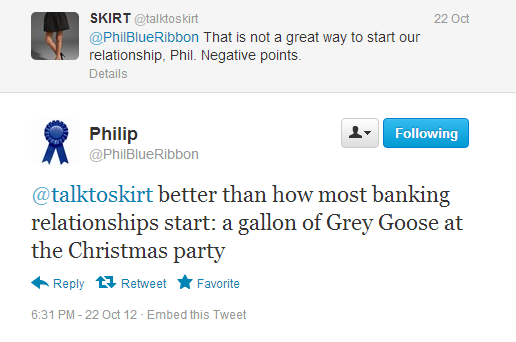 We'll be sharing some of our favorite and worst holiday party stories over the next couple months. Send us some of your memories in story, gif, or picture format in email, twitter, or instagram. Make sure to tag them with #wheninfinance.
Some of our favorite ones might receive some holiday presents in the new year.
Tweet
November 26, 2012
When the other intern comes in 3 hours late and thinks nobody will notice:
My boss' reaction:
Credit: M / Intern / Merrill Lynch
Tweet
November 21, 2012
The Holiday Party:
Expectation:
Reality:
Credit: Skirt
Tweet
November 13, 2012
When my VP calls me over for another turn on a book
Credit: M / IBD / NYC
Tweet
November 7, 2012
When the obnoxious banker on the deal blows up my phone/email repeatedly:
Credit: F / LA / Mezz
Tweet