January 21, 2013
How I feel when I have to work on MLK Day:
Credit: Skirt
Tweet
December 19, 2012
November 5, 2012
October 23, 2012
What happens after you point out a mistake your VP/MD made in front of the client: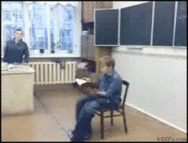 Credit: M/NYC/IBD
Tweet
October 18, 2012
When walking someone with a non-financial background through a model with 5+ inputs
Credit: Former Sell Sider
Tweet
October 10, 2012
Dating a #WIF. Date Night:
Expectation:
Reality:
Credit: Skirt
Tweet
October 3, 2012
When Too Many #WIFs Are Under One Roof, Down Under:
Received in the WIF inbox today: this hilarious email chain that has gone viral from the #WIFs down under.
Apparently a bunch of #WIFs shacked up together and one in particular was very set on certain house rules. The best one being a Skirt Tax, apparently referred to as 'Birds'.
Click through the images below to see the full emails. 
The first picture here shows the original email.
The second picture here shows the reaction.
Wow! 
Tweet
September 27, 2012
August 31, 2012
Why back office people don't spend much time thinking about front office people
Credit: M / IB / Chicago
What's that,  you say? A dick measuring contest?!


Front office v. Back Office: Submit to us WheninFinance@gmail.com
Tweet
August 28, 2012
Krilogy Financial's "Call Me Maybe" Cover…
Them:
Everyone Else:


In case you missed the original video, check it out here.
Credit: M/ Latin America / Prop Trader

What's your reaction after watching that video? Send your gif reactions to WheninFinance@Gmail.com
Or talk to us: twitter.com/WheninFinance 
Tweet
1
of
2
Next page